What. The. Hell. Was. That?!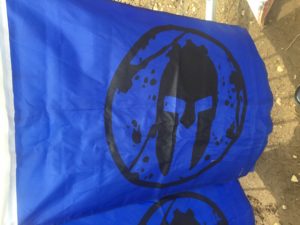 After opting out of racing Saturday's Spartan Sprint due to health concerns with Post Concussion Syndrome and getting the chance to be a spectator at a race for the first time, I was honestly dreading Sunday's Super.
I heard from a lot of people that the race was boring, lacking obstacles and creativity of any kind and that it seemed Spartan Race had gotten "lazy" and replaced obstacles with hill climbs. They were right.
The most positive thing to take out of the weekend was my lack of symptoms during Sunday's Super. I managed to complete the race without having to stop walking once. My goal was to never need to sit down or stop, but obviously would if I absolutely had to. So it was a HUGE victory for me to be able to do all 13 km and 1,538 m of elevation gain without a single break.
My heart rate peaked at about 191 bpm on one of the ascents, but I was constantly watching my heart rate monitor and concentrating on deep breathing techniques to slow my heart rate below my current maximum allowed heart rate of 190 bpm. I spent most of the race around 177-186 bpm.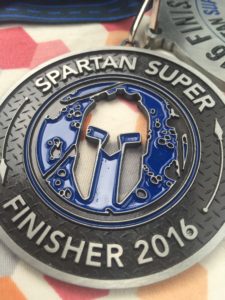 The Good
This year's medal design is awesome. I love the punched out Spartan helmet.
There were timing chip checkpoints on the course to make sure no one cut the race. It still happened. But it was caught instantly. They proved useful during the Sprint when the first 10+ guys across the finish line were disqualified for missing a checkpoint and therefore "cutting the course".
I noticed a lot more water stations on course than previous races. Side note, I still do not understand why people choose to run without hydration packs. SO many of the people I saw sitting on hills or on the trails were without water or gels/electrolytes and just hit a wall.
The views were absolutely gorgeous
Many of the obstacles had Army guys running them, which was cool to see. And they seemed to be better at enforcing the rules.
Seeing the damn finish line was the biggest highlight of the course to be honest. Sad to say it. Not many moments stood out to me other than that…
The Bad
Registration, especially on Saturday, was slow. Not impressed with the process this year. Season Pass Holders didn't have a separate line, instead they lined up with every one else for their timing chip and headband and then had to proceed to a SECOND line to pick up their bags with the rest of their Season Pass stuff.
Inside the Season Pass bags was a Trumin bracelet, the one-time use sticky ones. No one explained what these were for. I spoke to three different staff members who gave three completely different answers. One person said that it was our temporary race check in for future races because the official Season Pass Holders registration bracelet/timing chip wasn't ready for this race. Another person said that was the spectator pass. Another staff member said that was the parking pass. In every situation it's still the stupidest pass ever because if someone did put the bracelet on at the first race they would have cut it off after the race and no longer had it.
The Spartan Village was pretty non-existent. No food trucks or hot food of any kind. Just a bunch of demo tables with free bars and another station where you could pay $5 for a fruit smoothie. I also didn't notice a beer tent anywhere, not that I was looking for it so maybe it was hiding.
I'm sick of getting men's small t-shirts that are twice the size of me. I know for a fact the shirts are bigger this year than last since every year I get a small and every year they get bigger and bigger on me! At XMAN race there were men and women cuts of shirts and a huge variety of sizes, not to mention colour choices. I do like the Spartan t-shirts themselves, so I wouldn't want to have colour options, but what's the point if I can't even wear the smallest size? The sleeves hang down to my elbows and the t-shirt hangs to the middle of my thighs. For the price of these races, you think they could provide women with their own damn t-shirt.
The Sprint on Saturday started 10 minutes late. The START line also deflated just as they were finally getting ready to start. It was kind of funny.
Parking, which I luckily didn't have to pay as a Season Pass Holder, increased by $5 since last year! Bag Drop also went up by $1.
The Ugly
This super was by far the hardest Spartan Eastern Canada race I've done, even compared to the two Beasts I've finished. It was an onslaught of hills. Last year's Beast had 3 hills. This Super had 5 hills, on a much bigger mountain. The highest peak was 590 m of elevation. The downhills were almost all extremely technical terrain and incredibly dangerous. Maybe for elites that's awesome but I honestly don't know a single person who left that race enjoying it. Not exactly a great way to get the average participant back… I also think this was the most ambulances I've ever seen at a race.
Where were the obstacles? There were obstacles at some of the mountain tops but mainly only at the base. At one point there was at least a 6km stretch with no obstacles. I didn't sign up for a mountain climbing expedition. I signed up for an obstacle course race. It was disappointing to say the least, especially after enjoying XMAN as much as I did a few weekends ago. The obstacles lacked creativity and some of my favourite obstacles weren't there (no parallel bars?!?)
I was at the finish line for the Sprint on Saturday to witness the first male through find out he missed a checkpoint. He absolutely LOST HIS SHIT and was incredibly rude to staff members. Swearing in French and English, he threw his medal on the floor and upturned a garbage can over. It was a pathetically appalling scene to say the least. Turns out the first 11 or so guys across the finish line all missed the same checkpoint. According to them the course was badly marked. However, none of them were rude to the staff members. I had other friends competing in the Sprint and none of them had difficult navigating the race so I am not sure what to think.
Overall, I am still looking forward to the rest of the Spartan Races I am participating in this year but I am not sure I will be buying a Season's Pass next year. Spartan needs some serious upgrading in the obstacles department, especially for their prices.
I am definitely interested in trying out a Western Canada Spartan Race, a Stadium Race and maybe one day, Vermont, but we'll see what the future holds.
There are so many other race organizations out there I've been wanting to try that have such high reviews from my friends but didn't want to over do it with my race schedule this year.