This race was over a month ago, but clearly I've been a bit delayed in getting this recap out! Ottawa is one of my favourite race venues because it always seems to be where the most of my OCR friends are, it's where I used to live and it means a trip to see some family and friends too. I always look forward to this weekend every year. The course itself is relatively "easy" compared to some of the other terrains in Eastern Canada and one I've always done well at.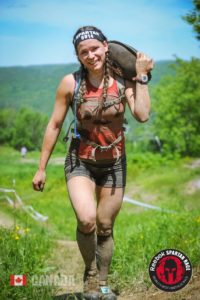 Saturday
Even though I wasn't cleared for running yet, I decided to try a few light, short jogs during the race and didn't feel any symptoms from doing so, BONUS!
This was my third year doing the Ottawa Sprints and I've always had relatively good results, so it was a slightly tough pill to swallow finishing this race over an hour slower than I normally would, but it's getting easier to accept the fact that I'm returning from injury with almost no training and it's to be expected.
At the Herculean Hoist I helped another woman hoist her propane tank as she was really struggling to get it off the ground. I guess Karma came my way because I NAILED THE SPEAR THROW not long after that.
I always manage to HIT the target but the spear never sticks. Before the target switched to bales of hay that the spear actually had to stick in, I had completed the spear throw obstacle but since the newer setup the last few seasons I had never been able to get through the spear throw without burpees.
I shrieked so loud after, that every person at the spear throw turned to look at me. Ha ha, oops!
Penalty Free races are just the best! That totally made up for the fact that it took me 2.5 hours to complete the race.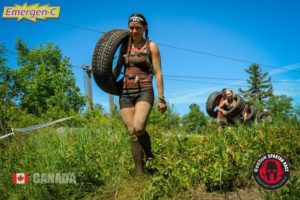 My boyfriend, Colin, finished 14th in his age group overall out of 267 people and 5th out of 250 people in his age group in the open division!
All of this was overshadowed by someone walking off with Colin's used clothes bag that also had his ONLY pair of race shoes and his favourite Spartan shorts.
We spent the rest of the day shoe shopping in Ottawa (he bought a pair of Salomons) and meeting my dad for lunch for Father's Day.
Sunday
It was a scorcher! I ran this race alongside my sister, who finished ahead of me the day before. Her back had been bothering her and she wasn't even sure she could handle a second race day, but I taped her up and man, she persevered!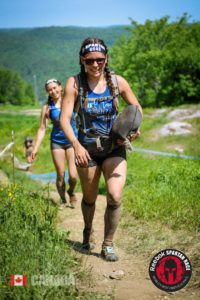 We took about 5 minutes longer than my Saturday time but stopped to take pictures with friends along the way that we met up with on the last downhill before the finish line and we all crossed together.
I got to witness my sister climb her first full rope and I've never felt so proud! She's been trying to nail that obstacle for 2 years and I am super impressed with her accomplishment.
I always love racing with her because we goof off, chat and take hilariously awesome photos.
This time I wasn't getting through the race penalty free though. Guess where my only set of burpees were? CURSE YOU SPEAR THROW!
I guess Colin's new shoes were pretty lucky, as he finished 10th in his age group overall out of 141 people and 2nd in his age group in the open division out of 121 people.
He's had a qualifying finish for OCRWC at every Spartan Race he's done this season except the Super at Stoneham where he rolled his ankle. Super jealous! Ha ha.
I am definitely starting to notice a major improvement in my Post Concussion Syndrome and am able to exert myself even more with less and less symptoms.
It's not easy to complete a race knowing you are capable of better and seeing the results and knowing that the qualifying times for OCRWC are ones you could have easily beat if you weren't forced to walk.
Total over two days: 14.3 Km, about 900 m of elevation gain, about 3200 calories burned, two medals and two t-shirts!
Next up, Battlefrog Toronto on July 2 and Spartan Super Toronto on July 3.