I had been enviously eyeing Battlefrog photos for the past two seasons, but on a limited budget have not been able to travel to US for races, so I was so excited when Battlefrog announced they were coming to Canada!
The only downfall was that they chose the same weekend as the Toronto Spartan Sprint and Super, and didn't announce their venue until much closer to race day than expected. The price, in US dollars, also scared me off a little bit. I had only spent a bit more money on my entire Spartan Season Pass as one Battlefrog race would cost me, so I was hesitant to register, especially not knowing WHERE the race was going to be held. But since Ryan Atkins was involved in the race I just KNEW I had to be there!
When they did finally announce the race venue and I knew I could make Battlefrog work on Saturday and still compete in the Spartan Super on Sunday, I signed up as a volunteer for the Friday to aid in setup and earned myself a free entry to Battlefrog. SCORE!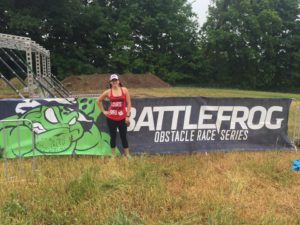 To be honest, while volunteering I had my doubts about how good Battlefrog was going to be. When we first arrived, the first person we spoke to was shocked that there were any volunteers (there weren't many of us that showed up, a bit more than a handful) and had no clue what to do with us.
We got sent to do one task, and immediately got called back do something entirely different. Different people kept approaching us during our tasks to tell us to do it a slightly different way than the previous person and it was just confusion.
BUT! I must say I was incredibly impressed with how serious Battlefrog takes their race setup and especially their branding. Talk about some strict set up rules!
Other than it pouring rain on us all day, it was a pretty fun day overall getting to meet new people, watching the festival area and surrounding obstacles come to life and being introduced to the awesome crew that puts together these races.
RACE DAY
I was finally cleared, by my concussion specialists, to start running! I hadn't run since a few short distance treadmill attempts in January and February when I was still suffering from Post Concussion Syndrome and later realized wasn't supposed to be running yet.
I was shocked to see such an empty parking lot when we showed up (the elite heat and BFX had already taken off). While volunteering we found out there was about 500 people registered for the race, also surprising.
When we lined up for our heat (9:30 am), there were less than 15 people in our heat (WHAT?!?) so they staggered us off in three smaller groups and sent us off 30 seconds apart.
For the first time all season, I started the race running. Oh how amazing that felt!
I absolutely LOVE how BF has three lanes per obstacle (novice, intermediate, elite) and lets you choose your own path if you're in the open division. There's also a mandatory obstacle completion, or you can choose to do the 8-count body builders instead. I chose the elite lane at every obstacle and got through them all on my first attempt until I hit the first Platinum Rig.
I bumped into some of the Battlefrog Elites struggling to complete the Rig and there was a line up of them trying to complete the elite lane so I decided to go for the intermediate lane. I got three quarters of the way through the Rig, but couldn't get the big gap near the end, which is what the Elites were struggling with too.
I hung out for a little bit and chatted with Solo and Cynthia, gave them a few Swedish Berries and hugs and then nailed the novice lane and kept on going.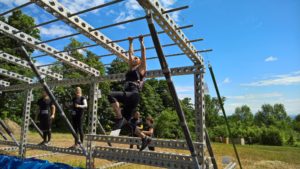 I continued on through the beautiful trails, running about 90% of the race, and kept on choosing the elite lanes at most obstacles. (I chose to do the intermediate option for the jerry can carry to save my hands, I did the novice lane of the monkey bars because that was the only bar I could reach and I did the intermediate option at the 12' Rope wall, intermediate at the wreck bag carry).
I had a time goal in mind and was flying through the course much faster than I expected to, until I got to Tip of the Spear not too far from the finish line. My boyfriend was already done the race and saw me and came over for moral support, which ended up disastrous for me.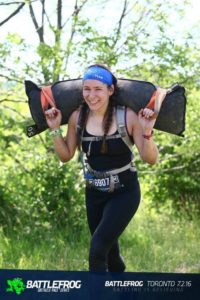 First I went to attempt the elite lane, and knew right away that wasn't going to happen so I went to the intermediate lane. I got RIGHT TO THE END and was about to hit the bell, and he started cheering on me and I slipped and missed the bell. Not his fault, but I let it get to me. I slammed my fists down on the wood, yelled at him to leave me alone, and stormed off to the novice lane.
Then came the second Platinum Rig. Once again I went for the Intermediate lane, but couldn't make the big gap again, and my hands were starting to rip open. I was still pissed off from the Tip of the Spear incident and sat down on the floor and pouted for probably 5 minutes. I got in my head WAY too much.
I finally got back up and dusted myself off and attempted the novice lane of the Rig and got it. Next came the mud mounds divided by really cold water and my calves seized up. I kept running to the wreck bag, got through that and next up was the monkey bars and the finish line.
I ended up finishing 8 minutes slower than my goal time and took some alone time to settle the mood I was in.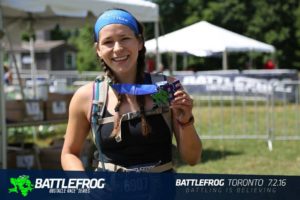 Even though I had finished slower than I had wanted to, I had a good feeling about the race because no one from my heat ever passed me, and I passed a lot of people from the earlier heat. I was antsy for my results, but because I had volunteered, I wasn't registered for the race the same way as everyone else and my results wouldn't be available for a day or two.
That turned into a week or two. I had seen the results page and knew that there were only 24 women in my age division so I would have had to have finished in 12th to qualify for OCRWC but I didn't know my EXACT time (I had been wearing a HR monitor and used Run Keeper on my phone but started both of them early and stopped them both late).
I finally got the news I had been waiting for – my official results were available and I finished in EXACTLY 12th place. Of course I was extremely happy, I mean, it's not every day you suffer from a major concussion and Post Concussion Syndrome for 9 months that keeps you from OCR training and you go and qualify for OCRWC the first time you're actually allowed to run again at the race?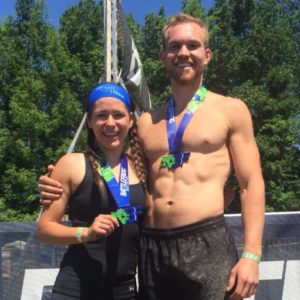 But then part of me was mad at myself for letting my anger get to me on the course and wasting a solid 10-15 minutes sitting around sulking. I would have had an even better finish had I kept on going.
Regardless, I qualified for OCRWC which was my ultimate goal, and fell in love with a new race.
Next year I plan to attempt BFX as well as BF elite.
** At the time of writing this on July 30, I have officially been verified as a competitor for the 2016 OCR World Championships in the Women's 25-29 Age Group Division! Now I get to actually train for a race this season!!