This was my third time competing in the Toronto Spartan Super at Brimacombe. I've never done this race even close to 100 per cent of my capacity. My first attempt in 2014 came off a night of partying and I completed it in roughly 2:47, then in 2015 I was coming off of an illness and spent a lot of the race walking and stopping to vomit in bushes. That one took me 3:20:24.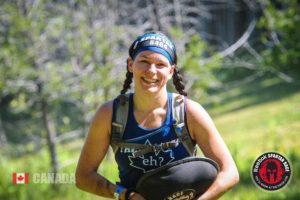 Going into the race this year, I was sidelined from any kind of training with Post Concussion Syndrome for over five months, then started very gentle body weight exercise mid April and was finally cleared for weight training exercises at the beginning of June. I wasn't cleared for running until end of June, basically a few days before this race.
After a successful day at Battlefrog Toronto the previous day (8km), I was looking forward to giving this course a better effort than previous years.
As usual, the hill climbs were my slowest part of the race. But I (slowly) ran about 90-95 per cent of the flatter terrain and felt really good. I knew I was going at a much faster pace than my 2014 race, which is the time I was trying to beat. I started thinking about how I could totally finish this race in two hours and 15 minutes.
When I got to the monkey bars there was an insane lineup. I asked if anyone was competing for time and was able to cut the line a bit, since I mentioned I was trying to qualify for OCRWC. I still sat there for at least five minutes though. A few of my friends showed up to the monkey bars after I did and chose to burpee out instead of waiting in line, and they were done before me!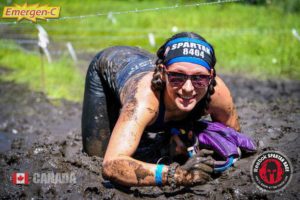 There was also a five-minute wait at the traverse wall and tire drag. The further I got into the race, the more I wished I had competed in the elite heat to avoid the back log, but I just didn't feel like I belonged there this season with my injury. Lesson learned.
I had torn my hands up a bit at Battlefrog the previous day, so I struggled a little bit with the ammo can carries and tire drag (wow, those chains got considerably shorter than last year! Talk about a back breaker…). Carries are another one of my weaknesses that I will be working on in the upcoming off season. Depending on the length of the carry, I usually have to stop once or twice to shake out my arms, and I do most carries at a walking pace. I can usually jog a little bit with the pancake carry and tire carry.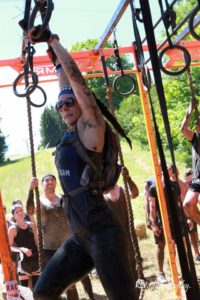 As I approached the barbed wire crawl and could see the Platinum Rig and finish line, I knew I was going to smoke my previous times at this race, despite the earlier obstacle hold ups. Then I got to the Rig and had to wait for a solid eight minutes for the lines to clear up. We were waiting for a girl to complete the Rig, who was stuck at the black bar that you had to traverse under without grabbing on to. She sat there for a good three or four minutes while everyone in line in front and behind me was complaining. I was so antsy, constantly looking at my watch and mumbling about how I wasn't going to hit my PR because of this, so the guy in the next lane who was up next told me to go in front of him. (Thank you, kind stranger!)
I nailed the Platinum Rig and sprinted my ass off to the A-frame and crossed the finish line with the biggest smile on my face. TECHNICALLY my official time was 30 or so seconds slower than my 2014 time, but if it hadn't of been for the wait at the Rig (not to mention monkey bars, tire drag and traverse wall) I would have finished at least 10 minutes faster than my 2014 time so I am definitely counting this as a PR for this course.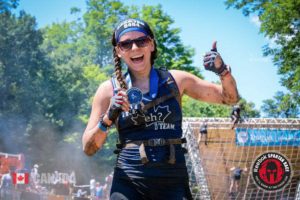 Oh yeah, I had one set of burpees – the spear throw.