Recipe Roundup March 19
Last Sunday I was still in Mexico, so I obviously wasn't doing any meal prep, which is why I didn't post a recipe roundup. Today we didn't do any meal prep either, because our schedule has a lot of flexibility this week and we are home to prep and cook all our meals fresh. We are making a meal plan and hitting the grocery store tomorrow and will likely prep a few batches of grains to shorten cooking times of meals, but that's about it.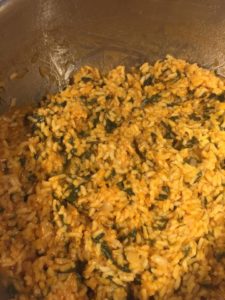 After a week of vacation and consuming some foods we normally stay clear from, we kept this week light and very plant heavy.
Early in the week I made a batch of spanakorizo from Three Sisters Around the Greek Table
. We gobbled up the first batch so quickly, and I had so much fresh dill left that I ended up making another pot of it, and DOUBLING the recipe.
Spanakorizo was a staple of my childhood and I still have yet to taste anything like my Yiayia used to make. I'm devastated I never got the family recipe before she passed away, but the Three Greek Sisters cookbook is the closest I've ever come to my grandmother's cooking for all Greek dishes and I highly recommend it if you want to make authentic Greek food at home.
Spinach & Dill Rice (Spanakorizo) 
Ingredients
1 Bunch (500g) of fresh spinach leaves, washed, larger stalks removed – I used a box of baby spinach
2 Tbsp of Olive oil
1 Yellow onion
Pinch of sea salt
1 Tbsp of chopped fresh dill – I love the flavour of dill in this recipe, so I used double the amount
1 cup of Arborio rice
2 cups of water
1 tsp of sea salt
Juice of 1 lemon
Olive oil for drizzling
Crumbled Feta cheese (Optional) – Right now we are off dairy completely, but when I do use feta cheese I only use sheep or goat Greek feta. Never cow milk.
**I personally love adding a few spoonfuls of tomato paste to this recipe, which is why it has a slightly red tint to it. The original recipe doesn't call for tomato, but when I grew up on this recipe it always had tomato in it.
Cut the spinach in half and set aside. If using baby spinach, you don't have to cut them
Heat the olive oil in a saucepan over medium heat
Add the onions and the pinch of salt
Saute onions until soft, about 5 minutes
Add all of the spinach to the pan, a handful at a time and saute
Add the dill, rice, 2 cups of water and the 1 tsp of salt. If using tomato paste, add here.
Bring to a boil. Reduce the heat and simmer, covered until the water is absorbed, about 20 min. If the rice is not tender and fluffy at this point, add more hot water and continue simmering.
Remove the pan from the heat. Add the lemon juice and drizzle with some olive oil
Serve warm or even at room temperature.
While in Mexico we ate a lot of red cabbage, and there was one sesame cabbage dish we particularly loved that we tried to replicate back home. It was a very simple dish of sauteed cabbage topped with sesame seeds, and tasted like it had some soy sauce and sesame oil on it.
I made something similar at home, but decided to beef it up with some extra veggies we had in the fridge. It turned out delicious, but as usual, I didn't follow a recipe and didn't measure anything as I was throwing it together.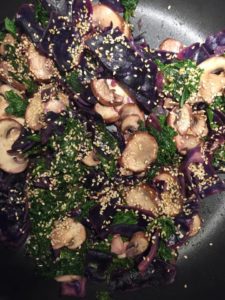 Basically, I filled a deep pan with about 1/4 of a red cabbage, torn up into bite size pieces and then added water to the pan to just cover the cabbage. I brought it to a boil and let it simmer until the cabbage softened up a bit, about 5 minutes. The water turned a beautiful purple colour, which we kept in a glass jar to use when making some grains tomorrow. The water will be full of nutrients that the rice will soak up while it cooks.
After removing the water, I drizzled some grape seed oil in the pan and turned the heat to medium. I added sliced mushrooms and sauteed for about 5 minutes. I added a few splashes of coconut aminos (you can use soy sauce or tamari sauce too) and then added in about half a head of kale, shredded into bite size pieces. I continued to cook this for another 5 minutes or so and then added a splash of lemon juice, sea salt, pepper, a splash of sesame oil and topped it off with sesame seeds.
Another recipe we keep coming back to is turmeric roasted cauliflower. Again, I don't follow a recipe and don't measure anything, but I can give you a general idea on how to make this delicious anti-inflammatory dish.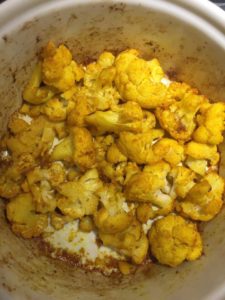 First, chop your cauliflower into florets and place in a Corningware dish. Sprinkle with about 2 tsp of turmeric, 1/2 tsp cumin, 1/2 tsp onion powder, 1/2 tsp garlic powder, dash of cayenne pepper (to taste depending on how spicy you want it), dash of sea salt and pepper. Toss with about 1-2 tbsp of grape seed oil until all the cauliflower pieces are well coated. Add 2 tbsp pf water to bottom of dish. Place in oven (pre-heated to 425) and roast until cauliflower is fork tender.
Play around with the spices to your liking. Sometimes I use crushed red pepper flakes instead of cayenne pepper. Sometimes I put too much cayenne pepper and our mouths are on fire as we eat it (ha ha!) I've never made this dish the same way twice. It's always an adventure in our kitchen.
That's all the excitement for this week, as I said, we kept things fairly simple this week. Check back in next Sunday for another recipe roundup.
Enjoy!