My First Review of the Milestone Pod and Ultimate Obstacle Race Training
As a competitive OCR athlete with big goals for the 2017 season, I am always looking to optimize my performance and improve my race times. I know that running is my weak point (which is why I LOVE mandatory obstacle completion races) so I recently purchased a Milestone Pod to view in-depth performance and gait data to become a more efficient runner.
It arrived three weeks ago, but then I hurt my lower back and wasn't running so I didn't get to try out the Milestone Pod until tonight. Coincidentally, I also decided to put one of my OCR training books to use by doing the initial test from Ultimate Obstacle Race Training: Crush the World's Toughest Courses
 by Brett Stewart.
The initial test is timed for the duration of all three rounds, including any rest breaks if they are needed. Each round consists of 5 push-ups, 5 squats and running 1 mile. In the first round, the mile run is at a conversational pace with a perceived exertion of about 5. In the second round, the mile run is at a moderate pace with a perceived exertion of about 7. Finally, in the third round, the mile run is at an overall moderate pace with a few intervals at a higher intensity of about 8.
The optimal time for completion for round 1 is under 15 minutes, round 2 is under 13 minutes and round 3 is under 12 minutes. Depending on your final time, the author suggests different training plans to use. If the test takes over 40 minutes, the Prep Program is recommended until you are ready to move on to the next level.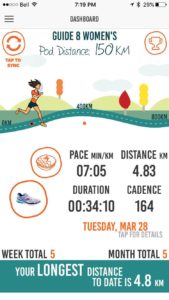 If the test takes less than 40 minutes you are ready for a 3-week program called Domination Level Alpha, which will get you ready for a 5K OCR in 24 days. If the test takes less than 35 minutes you are ready for the 5-week CRUSH IT Program. And if the test takes less than 30 minutes the author suggests jumping into the second week of the CRUSH IT Program.
So how did I do?
I finished in 34:50.
Nowhere near where I want to be, but a hell of a lot closer than I thought I was. Especially considering I just spent 15 of the last 18 months not exercising at all.
Now the Fun Stats with the Milestone Pod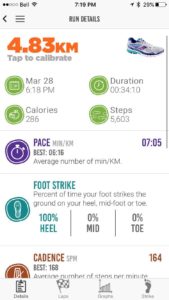 I definitely learned some data about my running that was unexpected. Now, I have to figure out what to DO with that information. If anyone reading this is a performance running coach, or knows a running coach, please reach out!
I love the run details and how the Milestone Pod app gives you tips on where you should be for each data point and even provides you with an efficiency score.
I know for a fact that I have fallen arches (flat feet), wide feet and that I require supportive shoes for running. I know that I have knees that curve outwards and don't track straight. I know that my lower body is a disaster of tight muscles, that I regularly hurt my lower back and I often hit my heel against my calf (typically right heel) while running.
I THOUGHT I was a mid-foot and toe striker, especially because I've been actively paying attention to that lately and FEEL like that's what I am doing. Turns out I am 100% a heel striker.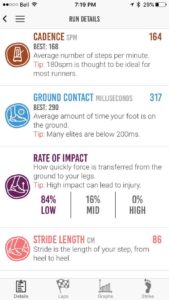 While it's not necessarily a bad thing that I am a heel striker, especially since it is comfortable and more common in longer-distance runners, I need a higher turnover rate.
My cadence of 164 is slower than the 180 steps per minute that is strongly emphasized by running coaches in order to minimize the landing shock associated with running. At least my rate of impact was 84% low and 0% high.
One tip I read in Daniels' Running Formula
 is to imagine you are running over a field of raw eggs and your goal is to not break any of them.
I also discovered I have a 100% low leg swing, and of course higher is considered more efficient.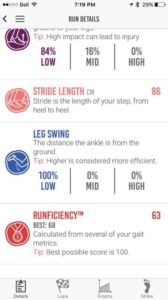 My run efficiency score, calculated from several gait metrics, was 63 out of 100.
All this mean I have quite a bit of work to do to improve my score, but there's nothing I love more than a challenge, especially when there is actual data involved!
I am definitely excited to continue using the Milestone Pod, along with some training principles and techniques from Daniel's Running Formula and am looking forward to how the 2017 season progresses for me.
I signed up for the Five Peaks trail series as a way to keep working on my running and my first race is April 22, one week before the Ultra Beast.
I will give you an update on my running after the Ultra Beast when I do a race recap.