April 29, 2017. That was supposed to be the day I conquered the Spartan Ultra Beast in New Jersey. But, as luck would have it, life had other plans for us.
When we decided we had to defer our registrations for the Ultra Beast, we immediately registered for Concrete Rush because it was local and only a 2km race (plus an OCR World Championship qualifier). Since our injuries couldn't handle a marathon-distance race with over 60 obstacles, we figured Concrete Rush could be a fun way to test out our bodies, see our friends and start the season.
What is Concrete Rush?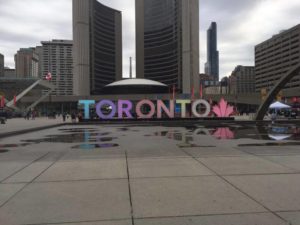 Concrete Rush is a 2km short course with 15 obstacles from several of Canada's top obstacle series that was held for the first time at Nathan Phillip's Square in the heart of Toronto.
Elite Rushers had the opportunity to qualify for OCRWC and had mandatory obstacle completion. Regular Rushers could pass the obstacles or take the easier option if they wanted to.
The elite waves were scheduled from 8:30 to 9:30 am, with heats in five minute intervals and a maximum of 30 runners per heat. The top 25 elite men and women qualified for the "main event" at noon, where they competed for cash prizes of $1,000, $500 and $250 for first, second and third, respectively.
To qualify for the 2017 OCR World Championships, participants had to first qualify for the final heats at Concrete Rush. Of the 25 men and 25 women who made the finals, the top 3 men in the final event qualified for the Pro Division at OCR Worlds. The top 10 age groupers overall also qualified, for a total of 13 qualification spots for men. Same for the women, the top 3 women in the final event qualified for the Pro Division at OCR Worlds. The top 10 age groupers overall also qualified, for a total of 13 qualification spots for women.
When I originally read the OCRWC website, the qualifications weren't spelled out quite like this and even after reading this explanation, I will admit I am still confused as to who qualified.
On the OCRWC site it says the top 3 finishers in your gender in the elite heat qualify for the Pro Division and the top 10 finishers in your gender in the elite heat qualify for the Age Group Division. I totally understand the top 3, but do the top 10 come from elite overall or do the top 10 come from the final heat of Concrete Rush where the top 25 men and women competed? And the whole "age groupers overall" wording is a bit confusing as well.
Either way, I didn't qualify. But, it would be awesome if the definitions lined up from site to site for easier understanding.
Concrete Rush Obstacles
The map isn't in the exact order we faced the obstacles, and I have terrible memory when it comes to obstacle order, so I am just explaining the obstacles in the same order as the map.
Road Block – 8 foot high walls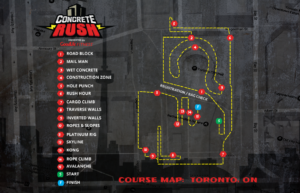 Mail Man – 50 lb Wreck Bag carry (or 25lb option in fun waves)
Wet Concrete – Carry Wreck Bag across balance beam
Construction Zone – Lug Wreck Bag over 4 foot wall without letting bag touch the ground
Hole Punch – Use pegs to jam in holes and climb over a 14 foot wall
Rush Hour – Hop from one slanted platform to the next
Cargo Climb
Inverted Walls
Ropes & Slopes – Pull yourself up 14 foot slope
Platinum Rig – It was just a series of rings
SkyLine – Slide your way down
Kong – Climb up and across 14 foot high cargo net
Traverse Walls
Rope Climb
Avalanche – Run to make it over a Quarter Pipe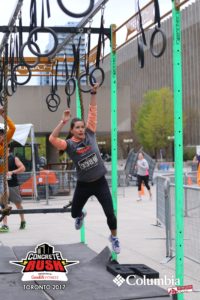 I must say, I personally did not find these obstacles challenging at all. I know I didn't qualify for OCRWC, but I feel like a qualifying race should have much more challenging obstacles than what we faced at Concrete Rush, considering what's waiting for us at OCRWC.
But, I've also never done a short course before, so I am not sure if the obstacles are MEANT to be easier to make it a quick race.
My Results
Considering my back injury coming right on the heels of Post Concussion Syndrome and lack of training for a few months, I used Concrete Rush as an opportunity to test my body out and kept things relatively slow. I was especially cautious during the three obstacles that required carrying the 50 lb Wreck Bag.
My official time was 18:12.7 putting me 155 out of 274 participants in the elite waves, 33 out of 81 elite women and 7 out of 23 women in my age group category.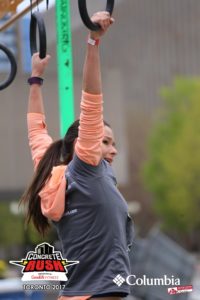 Running is my biggest weakness, which I have said multiple times. I seem to take a few kilometers to warm up during a race (even if I warm up first!) so I was nowhere near my "peak" during this 2km short course.
I've also been keeping all my runs at a slow pace and have not done any speed work, so let me tell you, the lungs were BURNING by the end of this race even though I wasn't moving that quickly.
I definitely love the idea of a short course, but I have to work on my speed if I want to be competitive. At least with a longer distance, mandatory obstacle completion race, I have a fighting chance. But with such easy obstacles and short distance, there was no way I was going to be qualifying for the Elite Finals at Concrete Rush.
It was such a rush (see what I did there?) watching the men's and women's finals and I can't wait to one day be a part of that.
All-in-all Concrete Rush was a blast. I love small venues and inaugural races where there is a smaller crowd, most of whom seem to be your acquaintances, and it becomes a social gathering more than anything.
It was great to see much of the One Army, who CLEANED UP with awards, and many of my Canadian Mudd Queens friends.
I can't wait to see this series grow and become an annual event in more cities; it's one I will be keeping on my schedule for sure!