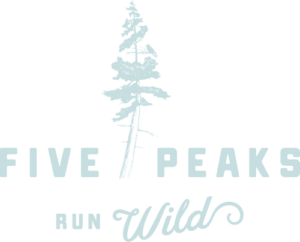 I suck at running and I am not afraid to admit it. It's the weakest part of my OCR performance. That's why I chose to sign up for some non-OCR trail races this year, to work on improving my running. Colin and I purchased a Season Pass for 5 Peaks Ontario, which is a trail running race series featuring some of the nicest trails in the Greater Toronto Area including Rattlesnake Point.
I heard really positive reviews about the 5 Peaks trail series from a number of different friends, including how sweet the swag was, so I really wanted to give it a shot. By the way, the sweetness of the swag is an understatement. I can't believe the quality of the swag we'll be getting throughout the 5 races. But more on that later.
The first race of the series was Terra Cotta, which is only a 30-minute drive from our house. Actually, all the races are within 5-30 minutes from our house, with the exception of Rattlesnake Point which is closer to an hour away. That was definitely another selling point for me!
Because we bought a Season Pass, we got a limited edition 5 Peaks tee (which is a beautiful colour and the softest fabric I've ever felt, not your typical race quality tee). We opted for the Enduro option at each race, which is a 10-15 km intermediate to advanced course.
Terra Cotta
So, on April 22 we woke up much later than we've ever had to wake up for a race before and we headed to Terra Cotta. The sun was shining, but it was COLD out! I didn't expect it to be that chilly, and apparently neither did anyone else, as we all stood shivering in line waiting for our race packets.
I was amazed to see so many of our OCR friends from One Army in attendance! It really helped make us feel at home.
After picking up our bonus limited edition 5 Peaks tee, we also picked up our souvenir specific to the event, which was a pair of custom 5 Peaks convertible run gloves.
The announcer kept on warning racers to be careful on the trails because they were extra muddy and slippery. I obviously wore a pair of trail shoes, but many runners were wearing running shoes.
I really liked how they broke up each group into heats based on pace time (although this was honour system and I saw a group of young kids with adults in costume line up for the second wave and I knew there was no way they were running that speed).
I made a game-day decision to drop from the Enduro 10km to the Sport 5km because I was nursing an injury and I waited until one of the last waves, since I was planning to walk most of the race. I ended up running most of the race, with a few short walking spurts.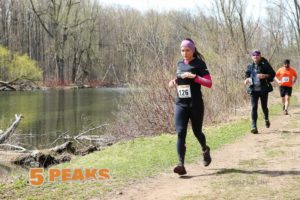 I kept waiting for this massive amount of mud the announcer warned about, and finally hit it about 1km into the trails. This is where I got to pass a lot of people since I'm used to the mud at OCR and just ran right through it while other runners tried to slowly tip-toe through or around it.
I found the trail very well marked and was not aware of anyone getting lost, like I hear all too often at many OCR races.
Both Colin and I really enjoyed the atmosphere, trails and customer service that 5 Peaks had to offer and we are excited about the remaining 4 races and cool swag.
5 Peaks Swag

Our next 5 Peaks race is June 10 at Rattlesnake Point, where we'll get to choose between one of two custom 5 Peaks trucker hats. The event is sold out.
If you are interested in registering for one of the remaining Ontario 5 Peaks races, act quickly, because they sell out quickly.
At race 3 (Albion Hills) we'll be getting a custom pair of 5 Peaks Run Wild Swiftwick socks. At race 4 (Heart Lake) we'll get to choose between five colours of water bottles. I don't think they've announced the swag for race 5 (Kortright Centre) yet.