Last updated on April 24th, 2020
After a workout, it is important to eat a meal within two hours to replenish energy stores, to increase muscle size and/or muscle quality and to repair any damage caused by the workout.
Depending on what you ate before your workout, and how close to your workout you ate it, your window of time to eat post-workout varies.
If you're in a rush and don't have time to cook a meal, a smoothie is usually the best option.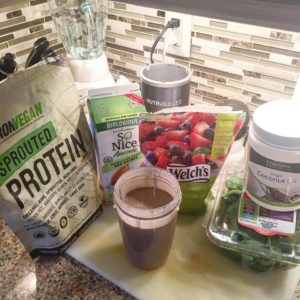 Athlete Recovery Smoothie
Ingredients
1

scoop

protein powder

1

handful

spinach

1.5

cups

unsweetened non-dairy milk

(or milk)

0.5

cup

fruit (like mixed berries)

fresh or frozen

1

small

banana

(or 1 cup mango)

1

tbsp

flax or chia seeds
Instructions
Add ingredients to a high-speed blender and blend until well combined. You may need to add more liquid (water) depending on the type of protein powder you use.
Macro Guide
Are you stuck in a plateau and can't seem to get faster, leaner or stronger? 
Discover the macros you need to maximize your performance so you can dominate your age group on race day.