Last updated on April 24th, 2020
I'm not sure if you know this or not, but I am a sucker for baked goods. The more chocolate, the better. Some personal faves include chocolate chips cookies, cupcakes, brownies and Nanaimo bars.
As a Nutritionist (and athlete) my nutritional health is a priority, so between the food intolerances I have and the general avoidance of highly processed, sugary treats, I am always on the lookout for healthier versions of my favourite goodies that use good quality, whole food ingredients. I pretty much only use gluten free and vegan recipes (although I do use honey).
I can count more kitchen disasters than successes when it comes to following recipes I find online for homemade desserts that are free of my intolerances. I tend to trust cookbooks more often, and now have a very select few websites I use for recipes. I also have an amazing baker in my back pocket for vegan, gluten free cupcakes and I have a few cafes in different cities that are a must-visit when I am in town.
I recently saw a picture of chickpea blondies on a fellow Nutritionist's Instagram and I asked her if I could share her recipe in my next blog post. But, of course, I had to taste test first.
So, while meal prepping this weekend, I made a tray. Let's just say, there may (or may not) only be one left in the fridge.
SUCCESS! And boyfriend approved.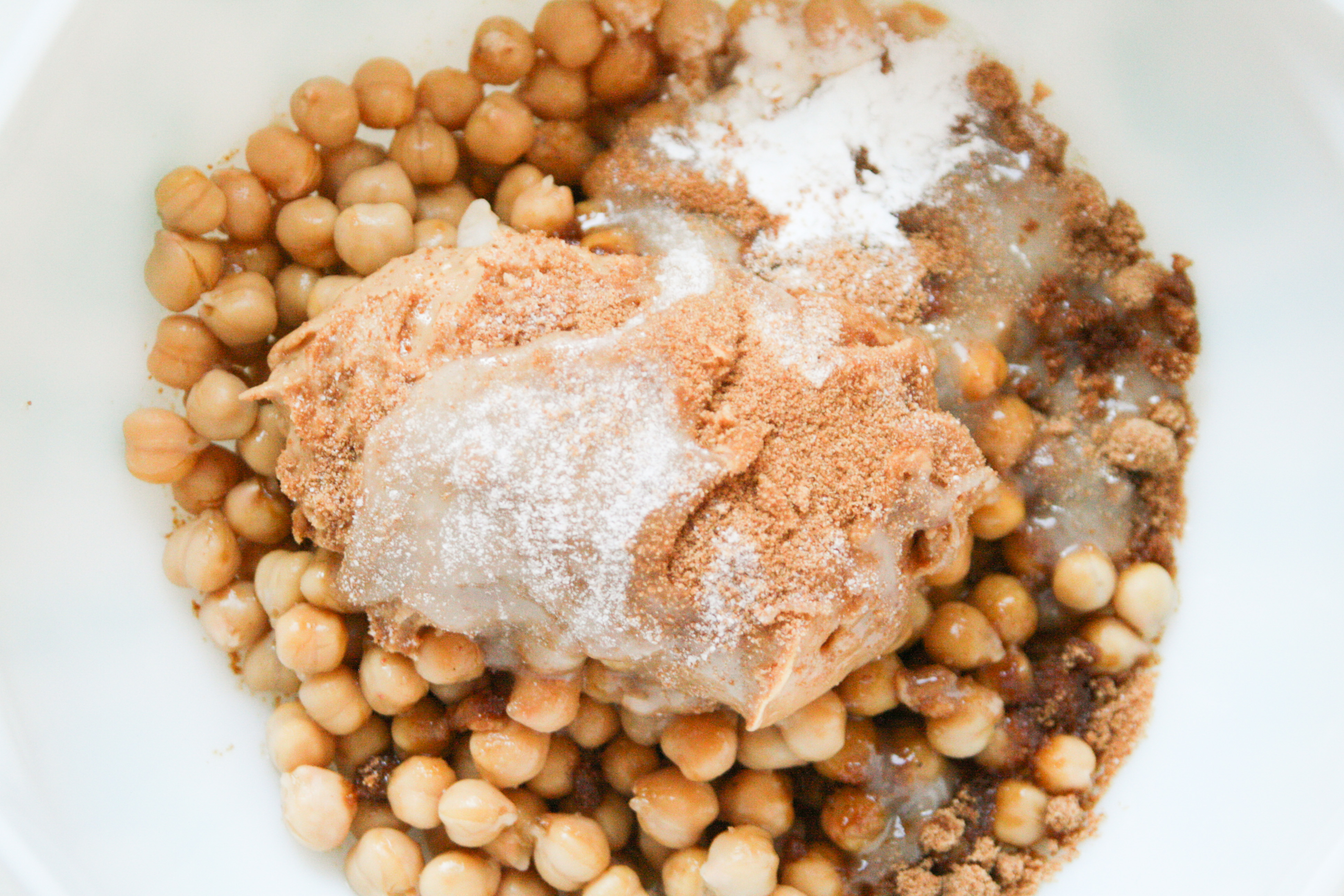 Chickpea Blondies
(Dairy Free, Gluten Free, Vegan Friendly)
Ingredients
1

can

chickpeas

drained, rinsed well

1/2

cup

natural peanut butter

(or any other nut butter)

1/4

cup

honey OR maple syrup

1/4

cup

coconut palm sugar

1

tsp

baking powder

1/4

tsp

sea salt

1

tbsp

pure vanilla extract

1/2

cup

dark chocolate chips

Himalayan sea salt and extra chocolate chips to top
Instructions
Preheat oven to 350F. Line small baking dish with parchment paper.

Add chickpeas, peanut butter, honey or maple syrup, coconut sugar, baking powder, sea salt, and vanilla extract to a food processor or high speed blender. Blend until mixture or smooth with no visible chunks.

Add mixture to a mixing bowl. Fold in chocolate chips.

Pour mixture in to parchment lined baking dish and smooth out evenly.

Top with sea salt and chocolate chips

Bake in oven for 25-30 minutes

Let cool and cut in to squares.
Notes
Store in the refrigerator for up to 1 week OR put in the freezer for up to 3 months. Enjoy!
I used a 19 oz can of Blue Menu chickpeas, organic natural almond butter instead of peanut butter, raw honey, alcohol-free organic vanilla and Enjoy Life Mega Chunks.
This recipe was SO easy to follow and used ingredients I always have in my pantry anyway. All I had to buy was the chocolate chips. Prep is quick, which is not always the case with vegan desserts.
These blondies taste absolutely incredible…so chewy and moist, and because of the Mega Chunks of chocolate chips I used, there was SO.MUCH.CHOCOLATE.