Last updated on August 8th, 2018
2017 Ragnar Relay Niagara
A few months ago, a friend reached out because she wanted to create a 12-person team for the Ragnar Relay and was looking for interested runners. One look at our race schedule told me we were wide open for the weekend, plus who wouldn't want to spend their birthday weekend doing a crazy relay run that ends in Niagara Falls?!
I immediately expressed interest for Colin and I, then told Colin I had expressed interest for him. (That's how I roll when I'm the "race secretary")
We made the decision to supply the second van for our team, which automatically meant taking on a leadership role as well as the driving duties.
This wasn't my first rodeo with relay events. I had previously taken part in the Sears Canadian Run to End Kids Cancer 100 km relay three years in a row, taking on a team captain role for two of the three years.
Having never done an overnight event before, we were pretty excited and definitely not prepared for the lack of sleep that was to be had at the Ragnar Relay.
The event started in Cobourg and ended in Niagara Falls, covering 304.4 km split (not equally) amongst 12 runners. I personally ran 23.1 km.
Ragnar Relay: The Good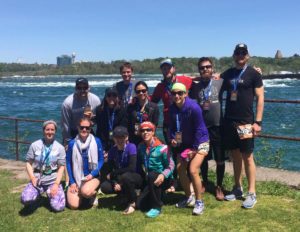 There's nothing more exhilarating than crossing a finish line with 12 people after spending 27 hours with them in a van. Especially when the finish line is over-looking Niagara Falls!
Our team was great and got along well, kind of an impressive feat when you spend 27 hours together in a van.
We saw some beautiful scenery along the way, especially once we got into the Niagara region.
It was awesome to meet other teams along the way, see hilariously unique team names and the van decor. The vans with the Christmas style lights at night were super cool. Totally need to steal that idea!
We also got to celebrate two team birthdays in our van!
Oh, also, kudos to the amazing medal design! I love that when the medals are all lined up together they spell out a message.
Ragnar Relay: The Bad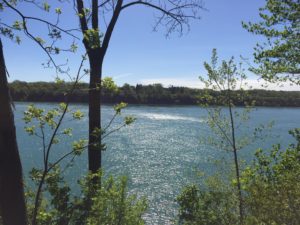 Obviously, I should have figured out that Ragnar Relay was going to be on pavement only, but descriptions of legs with "trail" had me totally misinformed. I absolutely hate pavement running, and my body felt it for almost a week afterwards.
All my legs were "trail" runs, which turned out to be paved trail along Lake Ontario.
This is advertised as a team relay event, but with a team of 12 people split in two vans, we almost never saw 6 of our team members. Team van 1 covered legs 1-6, and then they were supposed to go to exchange 12 and wait for our van to complete our legs. Then when our legs were done, we had to go wait at exchange 18 and so on.
If we were to tackle an event like this again, we'd either use the 6-person Ultra format or get a bigger vehicle that can accommodate all 12 people.
I personally didn't have any issues with the signage, but a few of my teammates nearly got lost a few times when they didn't see signs for extended periods at a time. This made them feel uneasy and question if they were in fact going the right way. I heard of many other teams losing runners along the way.
While there were hundreds of teams participating, most of the times we were running completely alone. This was especially nerve-wracking during the nighttime runs.
Also note, a relay event takes a LOT of logistics and planning from the Team Captain (thank you Cynthia), which also became my role for our van, as I previously mentioned. It was definitely a huge added stress for the day being co-pilot, safety officer, direction giver, part-time driver AND organizing runners with their legs and times.
Ragnar Relay: The Ugly
There really wasn't anything ugly. The closest thing to ugly was the overnight run when one of our runners was sort of harassed by a group of men. It could have turned out ugly, but thankfully it didn't. But I can tell you she came back rattled. Again, I heard of worse happening to other teams.
Ragnar DOES allow you to partner up for the overnight runs, or have a pacer but our team was too tired to partner up on runs and we didn't plan for any pacers or cyclists to participate with us. Plus, what friend really wants to come ride a bike next to us at 3am? We had a hard-enough time getting 12 people together to make a team and all pay on time, let alone trying to coordinate pacers.
Other than the pavement, the hardest part for me was losing an entire night of sleep. As the driver and/or co-pilot, I never had the opportunity to sleep during other runner's legs and when we finally got to the Church at the exchange point with a few hours to spare to sleep, I couldn't settle. Since I had been planning to sleep in the van, I brought a travel pillow and a blanket. We ended up sleeping on a church floor instead, so an air mattress or sleeping pad of some kind would have been smart to pack.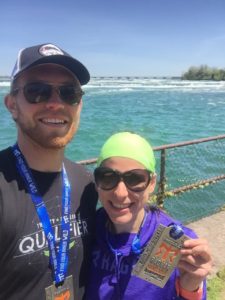 Overall, it was a wild experience that I wouldn't trade for anything. With the lack of training I had going into the event, I was extremely proud of what I was able to accomplish in terms of my pace and distance covered. While I don't see myself doing a classic Ragnar Relay on pavement ever again, I want to look into Ragnar Trail for next year.