Last updated on January 19th, 2019
Roasted Red Pepper Tomato Soup (Dairy Free, Gluten Free, Vegan friendly)
I don't know if you know this, but I am obsessed with soup. Like, ADDICTED. As in, even when it's 30 degrees Celsius outside and I am sweating through my clothes, I still crave and eat soup.
One of my favourite restaurants in our town is a soup cafe. Every day they have 4-5 different types of soups. You never know what they will have unless you go in and find out. I tend to eat there a few times per month. Sometimes it ends up being 1-2 times per week, depending on my week.
I've had the opportunity to expand my soup horizon with varieties I never would have thought of. But there are some obvious favourites that are always my go-to when they are available.
One of my favourite soups is a roasted red pepper tomato soup. What I love about this cafe is that they don't use dairy to make the soups creamy. They use a potato and they blend the soup to give it that creamy texture. Perfect for those like me who have a dairy intolerance!
As we were preparing to do our weekly meal prep, I decided I wanted to make my own roasted red pepper tomato soup, so I could save a few dollars.
When I want to make something I've never made before, I Google recipes and spend 10-15 minutes reading different top hits and I always make sure to read a few of the reviews. Then I will pick 2-3 recipes that sound the best to me and I will make my own variation combining pieces of all of them. Very rarely do I follow a recipe to a T.
If I like what I created, I will write it down to use it again with any modifications I think it might benefit from.
So with that, I bring you my roasted red pepper tomato soup concoction that is dairy free, gluten free and vegan friendly.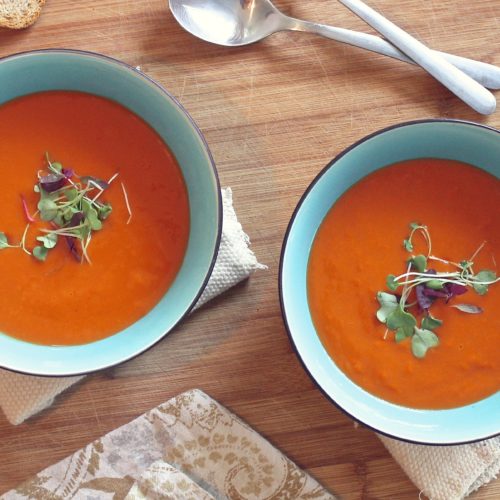 Roasted Red Pepper Tomato Soup
Dairy free, gluten free, vegan friendly roasted red pepper tomato soup
Ingredients
1

28 oz can

diced tomatoes (and their juices)

1

5.5 oz can

tomato paste

2

cups

chicken bone broth

to make vegan, use a vegetable stock

3

vine tomatoes (quartered and seeded)

1

small onion (peeled and quartered)

3

garlic cloves

1

potato (peeled and halved)

1

tbsp

olive oil

3

tbsp

fresh dill

1

tsp

dried basil

1

pinch

red pepper flakes

sea salt and black pepper, to taste
Instructions
Preheat oven to 350. Place chopped red peppers, tomatoes and onion on a baking sheet along with the garlic cloves. Toss with the olive oil and sprinkle with salt and pepper. Roast for 40 minutes.

While veggies are in the oven, add diced tomatoes and their juices, tomato paste, broth, potato, dill, basil, red pepper flakes and additional salt and pepper to a large pot. Bring to a boil over high heat. Reduce heat and simmer until the veggies in the oven are done.

When veggies in the oven are done, add them to the pot on the stove. Continue to simmer until the potato halves are fork tender.

Remove pot from heat and use an immersion stick blender to blend the soup. You can also use a blender or food processor, but you will need to cool the soup down first.

Adjust seasonings if desired. Serve hot
Notes
This was my first time making this soup. We both enjoyed this recipe, but there are a few things I might play around with. I found the soup a little thicker than I would have wanted it to be. I will either add more bone broth next time, or add a can of coconut milk for an even creamier texture.
The flavour was great, but it was more tomato than red pepper. I will either add an extra red pepper next time or do less tomato.
There were different variations on roasting the veggies for the soup. One variation was to set the oven to broil and roast the veggies for 10 minutes. This may bring out more of a roasted red pepper flavour, so it's also something to think about for next time.
This recipe serves 4. When you're as obsessed with soup as I am, 4 servings is never enough. We were done this pot of soup by the next day. So I would at least double this recipe the next time I make it.