Last updated on April 27th, 2021
I'm Greek, so you KNOW I love lamb. We're also experimenting with the Elimination Diet right now, and lamb is one of the few meats we are allowed to eat. Score!
Lucky for us, our beloved truLOCAL meat delivery service offers lamb. Double score!
In our last order, I made sure to include lamb shanks, which I've never made before.
I did a quick search on Google to find a recipe that included ingredients we can actually eat right now. I settled in on a recipe from The Spruce Eats and made a few modifications.
The result was a perfectly moist lamb shank, that practically fell off the bone, with a beautiful, crusted outside.
I'd love to make this a regular staple in our diet, but lamb shanks are quite high in calories and fat. I'm talking over 900 calories and over 60 grams of fat for a 1-pound shank.
So, as much as we loved this recipe, we'll probably keep our lamb shank consumption down to every 2-3 months. Which means, every 3rd order we place with truLOCAL, we'll include lamb shanks.
I hope you enjoy this as much as we did!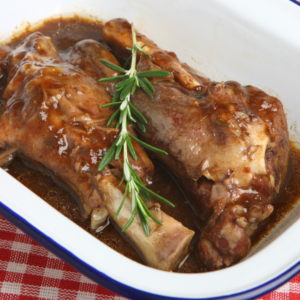 Rosemary Garlic Lamb Shanks
Simple recipe for perfect slow-roasted lamb shanks.
Ingredients
2

lamb shanks

I source mine from truLOCAL

1

tbsp

olive oil

extra virgin

3

garlic cloves (unpeeled)

4

sprigs

fresh rosemary

0.5

cup

broth

I used mushroom broth to stay compliant with my elimination diet. You can use chicken broth or vegetable broth.

Salt and pepper
Instructions
Preheat oven to 450 F. You will need a roasting pan with a tight-fitting lid that is large enough to fit the lamb shanks in one layer.

Place lamb in roasting pan and rub both sides of shanks with olive oil. Season both sides generously with salt and pepper.

Roast for 20 minutes, uncovered. Lamb will be a nice brown colour. Take the lamb out of the oven and turn the oven down to 325 F.

Remove excess fat from bottom of roasting pan. Pierce the skin of the garlic cloves with the tip of a knife. Place the garlic cloves in the pan around the lamb shanks. Place 1 rosemary sprig on each lamb shank. Place remaining rosemary sprigs in the pan around the lamb shanks.

Once oven temperature has dropped to 325 F, add the lid to the roasting pan and return lamb shanks to oven.

Roast the lamb for 2 hours. Do not check on the lamb or remove the lid because you will increase the risk of making the meat too tough. Trust me on this!

Once the 2 hours are up, remove the lamb from the oven. Remove the lid and add the broth you are using to the pan.

Turn oven up to 400 F and return lamb (uncovered) to oven for 10 minutes.

Remove lamb from oven. Place shank on plate. Spoon over the juices from the pan.

Pop roasted garlic out of their skins. Spread on lamb or eat whole – either way is delicious!
Let's Keep The Conversation Going
Do you have any questions or comments?  I would love to hear them.  My favourite place to connect is on Instagram. 
You can also join my free community on Facebook to connect with more than 1,500 other athletes to ask questions, share wins and get support from me and my team! I hope to see you there.
---