Last updated on April 27th, 2021
If you're looking for a deliciously rich and creamy soup full of nutrients, this cauliflower wild rice soup is your answer.
Bonus, it's naturally gluten free and vegan and uses common ingredients that are easy to find if you don't already have them in your pantry.
Each serving contains vegetables (so many vegetables!), whole grains (wild rice) and healthy fats (coconut milk).
If you're a meat eater, you may choose to include a piece of meat with your soup to create a complete meal, but it is quite filling and I'm a big advocate of having meatless meals from time to time.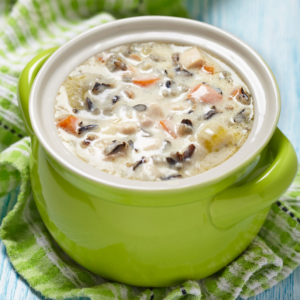 Cauliflower Wild Rice Soup (vegan, gluten free)
Creamy cauliflower soup with chunks of carrot, celery and wild rice. This recipe requires 1 small pot, 2 large pots and a high-speed blender or food processor.
Ingredients
1

cup

uncooked wild rice

1

head

cauliflower

Chopped into florets

2

cups

mushroom broth

You can use any vegetable broth

2

cups

water

2

Tbsp

olive oil

1

onion, diced

3

carrots, peeled and diced

3

celery stalks, diced

3

cloves

garlic, peeled and minced

0.5

tsp

dried thyme

0.5

tsp

dried rosemary

1.5

tsp

sea salt

black pepper, to taste

1

400 ml can

coconut milk, lite
Instructions
Cook the wild rice according to package instructions. When it's ready, set it aside.

While the rice is cooking, bring a large pot of water to boil. Add the cauliflower florets and boil until fork tender, about 10 minutes. When it's ready, drain the water and set the cauliflower aside.

While the cauliflower boils, heat olive oil in a large pot over medium heat. Add the carrot, celery, onion, rosemary and thyme and sauté until the vegetables begin to soften. Stir occasionally. Add garlic and continue to sauté until garlic softens, about 1 minute.

Add the mushroom broth and water to the pot, increase the heat and bring to a boil. Once boiling, reduce heat to low, cover the pot and simmer for 10 minutes.

While the soup is simmering, add the cooked cauliflower to a high speed blender or food processor. Add the full can of coconut milk to the blender along with the salt. Blend until completely smooth and creamy.

Add the creamed cauliflower and cooked wild rice to the simmering soup pot. Stir until everything is well mixed. Increase heat to medium and simmer for an additional 5 minutes.

Season with more salt and pepper as desired. Serve warm.
Let's Keep The Conversation Going
Do you have any questions or comments?  I would love to hear them.  My favourite place to connect is on Instagram. 
You can also join my free community on Facebook to connect with more than 1,500 other athletes to ask questions, share wins and get support from me and my team! I hope to see you there.
---