Last updated on December 3rd, 2022
Maca is a highly effective energy booster that provides essential nutrients for physical and mental performance. When combined with dates and coconut, you get a delicious energy ball that is a great pre-workout snack or tasty treat any time!  This is also a great fuel option to carry during your long runs or races.
In less than 10 minutes you'll have about 12 coconut maca energy balls (depending on the size you make them) and if you're patient enough to put them in the fridge for at least 30 minutes, you'll be rewarded with an even more enjoyable fudgy texture.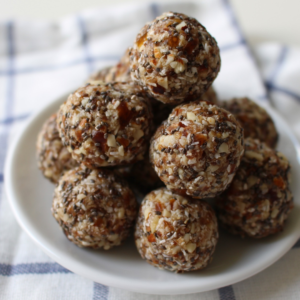 No-Bake Coconut Maca Energy Balls
Maca, dates and coconut come together to make a delicious energy ball that is gluten free and vegan! No cooking required. You will need a food processor.
Ingredients
1

heaping cup

pitted dates

1

cup

shredded coconut, unsweetened

2

tbsp

coconut oil, melted

1/4

cup

maca powder, gelatinized

1

pinch

sea salt

3

tbsp

coconut flour

for rolling
Instructions
Add pitted dates, shredded coconut, melted coconut oil, maca and sea salt to food processor and process until everything starts to clump together and become well combined. About 1-2 minutes.

Spread coconut flour on a plate. Remove the mixture from the food processor and gently roll into balls. Roll each ball in the coconut flour until coated. Gently tap the ball against the plate to shake off excess flour.

For best results, put energy balls in a sealed container in the fridge for at least 30 minutes before eating.
Notes
You'll likely gobble these up in a few days, but they will keep for at least a week in the fridge in a sealed container. 
The mixture is brittle at first, but after the energy balls have been in the fridge, they have a much thicker and fudgier consistency to them and they will not fall apart. 
Enjoy!
By the way, if chocolate is more your thing, you have to try my Chocolate Truffle Protein Balls!
What's your favourite energy ball ingredient?