A few weeks ago I shared some news on my personal Facebook page that I am now a Body Plus Ambassador for Iron Vegan.
I was introduced to Iron Vegan early 2016 and haven't looked back. Their Athlete's Blend is certified vegan, gluten free and kosher and is designed to aggressively support the needs of the most ambitious athletes.
No, you don't have to be vegan to use Iron Vegan. I'm not vegan. I simply adopt a more plant-based way of eating to fuel my performance as an athlete and I do not eat dairy (which rules out whey and casein). I also do not use any soy protein products.
There are no questionable ingredients in Iron Vegan products. There are no sugars hidden under other names such as maltodextrin, maltose, dextrin, sucrose, fructose etc. With just 1 gram of sugar per scoop and ingredients I can trust as a Certified Holistic Nutritionist, Iron Vegan is a product I can recommend to my clients.
I love that Iron Vegan's Athlete's Blend and Sprouted Protein mixes very easily and doesn't have the typical gritty, earthy taste or texture of most plant-based protein powders.
But, this post wasn't supposed to be about the product, as much as it was supposed to be about a delicious recipe I created on the weekend!
I have a recipe for chocolate truffle balls that I make once in a while, but I wanted to try and turn them into protein balls. I made a few changes to the recipe and it was a huge success! My next project will be to make bars with them instead of balls.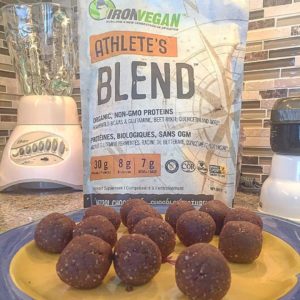 Chocolate Truffle Protein Balls
Ingredients:
1 cup pitted Medjool dates
, soaked for 5 minutes
1 scoop Iron Vegan Athlete's Blend in natural chocolate
2 Tbsp. raw cacao powder
2 tsp maca powder
2 Tbsp. hemp hearts
2 Tbsp. shredded coconut
1/3 cup almond flour/almond meal
½ Tbsp. water, if necessary
Directions:
Drain the Medjool dates and place in food processor. Add remaining ingredients and blend until well combined and starting to clump together. If you press the dough together it should stick. If mixture doesn't feel very sticky, add the ½ tbsp. of water. Roll dough into balls. I was able to make 14 from my batch.
This is a really easy base recipe that you could totally get creative with and add your own ingredients to. I will be making bars using this same base recipe but may add some other nuts and seeds, cranberries or cacao nibs depending on what's in my pantry and what I feel like experimenting with.
If you make these and love them, please share this post/recipe on your social media profiles.
Enjoy!