Last updated on February 11th, 2023
If your teen athlete is going to supplement, let's make sure they're doing it appropriately and safely. Here's how to choose the best protein powders for teen athletes.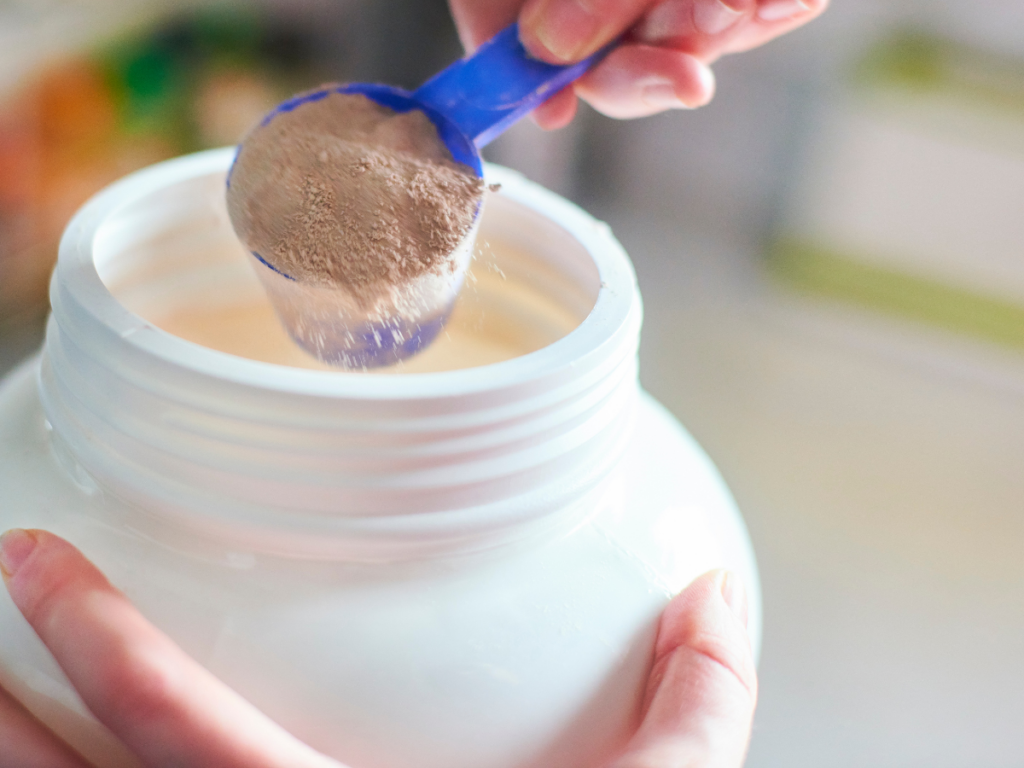 Some of the links in this blog post are affiliate links, meaning I'll earn a small commission if you purchase through these links.
There's a good chance your teen athlete is already taking supplements. According to the Centers for Disease Control and Prevention (CDC), 34 percent of children and adolescents under 19 use dietary supplements.
That number is likely higher among athletes because they believe supplements are essential to their success.
As a nutritionist specializing in sports performance nutrition, one of the supplements I get asked about most often by parents and young athletes is protein powder.
If your teen athlete is going to supplement, let's ensure they're doing it appropriately and safely.
Before we dive into my criteria for choosing the best protein powders for teens, let's discuss if protein powders are necessary for teen athletes.
How Much Protein do Teen Athletes Need?
The RDAs for protein for children and adolescents in the United States and Canada are between 0.80 and 1.05 grams per kilogram of body weight.
Elite young athletes, like adult athletes, need more protein than their non-athlete peers.
The current recommendation for protein for adult athletes is 1.2–2.0 g/kg of protein to optimize training recovery and promote muscle growth and maintenance.
Teen athletes likely have similar protein requirements.
Can Teen Athletes Get Enough Protein From Food?
I take a whole-foods-first approach when considering supplements with any athlete, especially teen athletes.
Daily protein powder use is likely unnecessary for most teen athletes, but there are a few reasons to keep a container on hand.
If their food intake does not cover their daily protein needs, a protein powder can help teen athletes fill in the gaps to meet their requirements.
Protein powder is a convenient and quick way to consume protein on the go, which is helpful for a teen athlete with a busy school and sports schedule.
For teen athletes already consuming enough protein in their diets, supplementing with a protein powder is unlikely to produce additional gains in performance, strength, or muscle mass.
What to Look for When Choosing a Protein Powder
The supplement industry isn't well-regulated. Unlike food and medications, there isn't a supplement safety police patrolling the shelves of your local supplement or grocery store to ensure all the products are safe.
This means you might not know what your teen athlete is taking. What the product says on the label doesn't always match what's in the container.
Additionally, some brands will use "proprietary blend" on their ingredient list, meaning they aren't disclosing all the ingredients in the product.
This is an issue because contaminated supplements can pose serious health risks like liver failure and death.
For athletes in tested sports, like NCAA athletes, Olympic athletes, and professional athletes, a supplement can contain an ingredient that's a banned substance.
If they pop positive on a urine test for a banned substance, it could be the end of their career or a very costly mistake.
The only way to know a product and company meet minimum safety standards and have been properly inspected to ensure the product isn't contaminated with hazardous or banned substances is through third-party testing.
Third-party testing means the company has paid an outside company to inspect its manufacturing process and product. It is costly, which is why many supplement companies forego this process.
Teen athletes should get in the habit now of taking supplements that are third-party tested.
Third-party testing doesn't mean the supplement is effective or needed. It simply means it's been vetted for safety and quality.
A few certification programs provide this service; if a product has been tested, it will have one of these logos on its label.
Always ensure each product you take has the NSF Certified for Sport or Informed-Choice for Sport logo.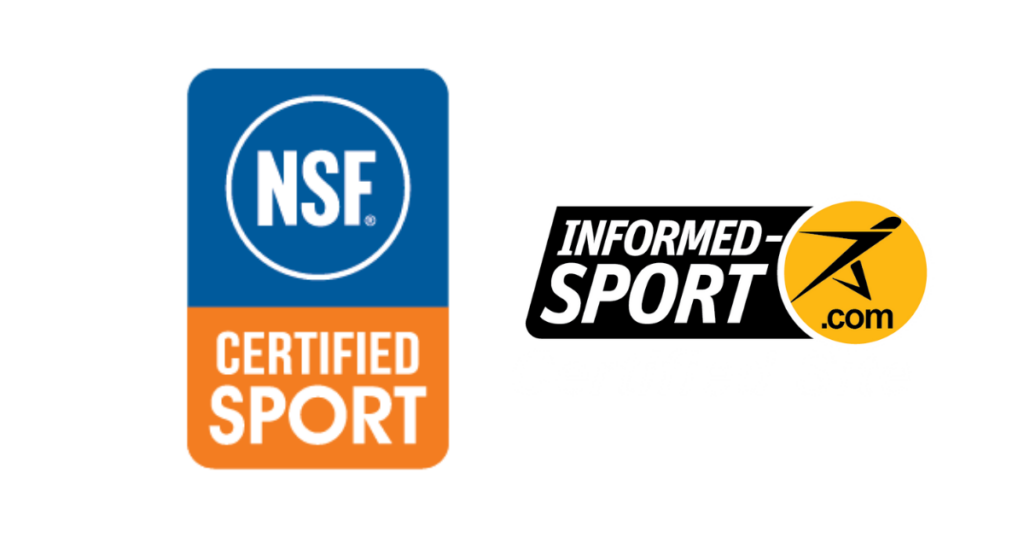 Here's my Protein Powder Checklist
20-25 grams of protein per serving.
Avoid any protein powder that lists amino acids in the 'other ingredients' section, as it's a sign of protein spiking.
Milk-based proteins are a better choice than plant-based proteins (unless you are vegan, vegetarian or dairy intolerant).
Avoid proprietary blends. If they don't give you the dosage of each protein source, you risk using an inferior product.
Choose whey isolate over whey concentrate for more pure protein and higher quality.
If choosing a whey concentrate, look for the quality of the concentrate with at least 80% pure protein.
Look for protein powder produced in a cGMP (certified good manufacturing practices) facility that's regulated by the FDA.
Look for NSF Certified for Sport or Informed-Choice for Sport logos.
Plant-based protein: Use a blend of multiple plant protein sources to end up with an amino acid combination that closely resembles whey.
Bonus: If possible, pick a protein powder with no artificial colours or flavours.
My Protein Powder Recommendations
The following recommendations are products that can easily be purchased in Canada, online, and meet most, if not all, of my protein powder checklist.
Just because you don't see a protein powder listed here, doesn't mean it's bad or not recommended.
BioSteel
Whether you choose BioSteel's Whey Protein Isolate, 100% Whey Protein or Plant-Based Protein, you can't go wrong.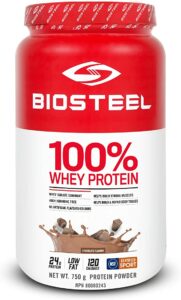 Klean Athlete
Klean Isolate by Klean Athlete is another great choice for athletes. It's unflavoured, which works well for making smoothies at home, but may be less practical (taste-wise) for an on-the-go solution.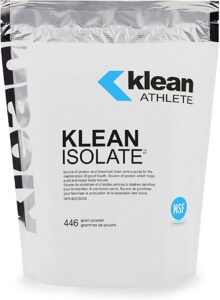 Iron Vegan
The Iron Vegan Athlete's Blend is an excellent option for plant-based athletes. Check out these chocolate truffle protein balls I made with the Athlete's Blend.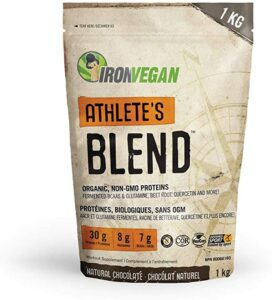 Pure Vita Labs
PVL ISO Sport Whey, Sport Whey and Plant-Pro can be found at Bulk Barn, Popeye's Supplements, Sobeys, Healthy Planet and many other stores across Canada.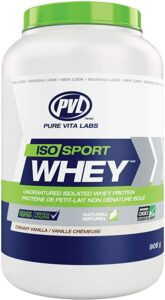 Let's Keep The Conversation Going
Do you have any questions or comments? I would love to hear them. My favourite place to connect is on Instagram.
You can also join my free community on Facebook: Sports Nutrition for Teen Athletes, to ask questions and get support from my team and me! I hope to see you there.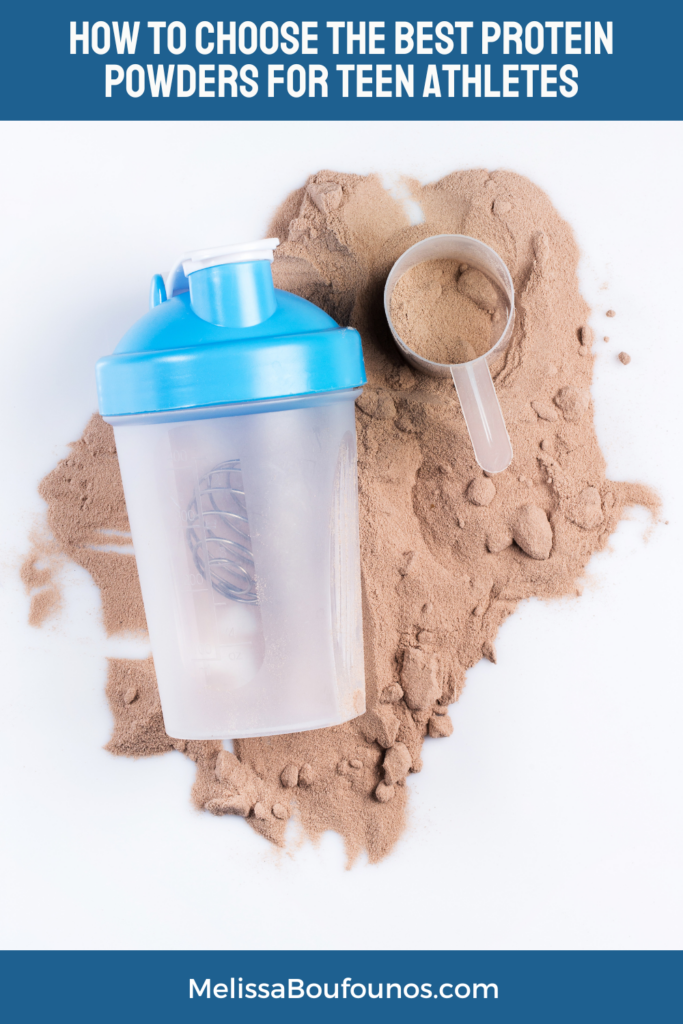 ---
Sources:
Sources:
Stierman B, Mishra S, Gahche JJ, Potischman N, Hales CM. Dietary Supplement Use in Children and Adolescents Aged ≤19 Years — United States, 2017–2018. MMWR Morb Mortal Wkly Rep 2020;69:1557–1562. DOI: http://dx.doi.org/10.15585/mmwr.mm6943a1